It's difficult to maintain a healthy lifestyle in the new year, especially after the mid-January slump. Having a solid foundation of fresh ingredients and tasty recipes can help you get back on track. And that's where Blue Apron comes in. The meal delivery service brings everything you need to cook right to your door.
Blue Apron collaborated with nutritionists to create a Wellness menu so you can focus on your holistic health and healthy lifestyle while learning to cook. Whether it's low-calorie turkey and mushroom cups or a harissa-honey chicken skillet for busy weeknights, there's something for everyone. Not sure what to cook tonight? Continue reading for a meal to help you on your 2022 wellness journey.
Following a Mediterranean Diet? Cook These Greek Chicken Thighs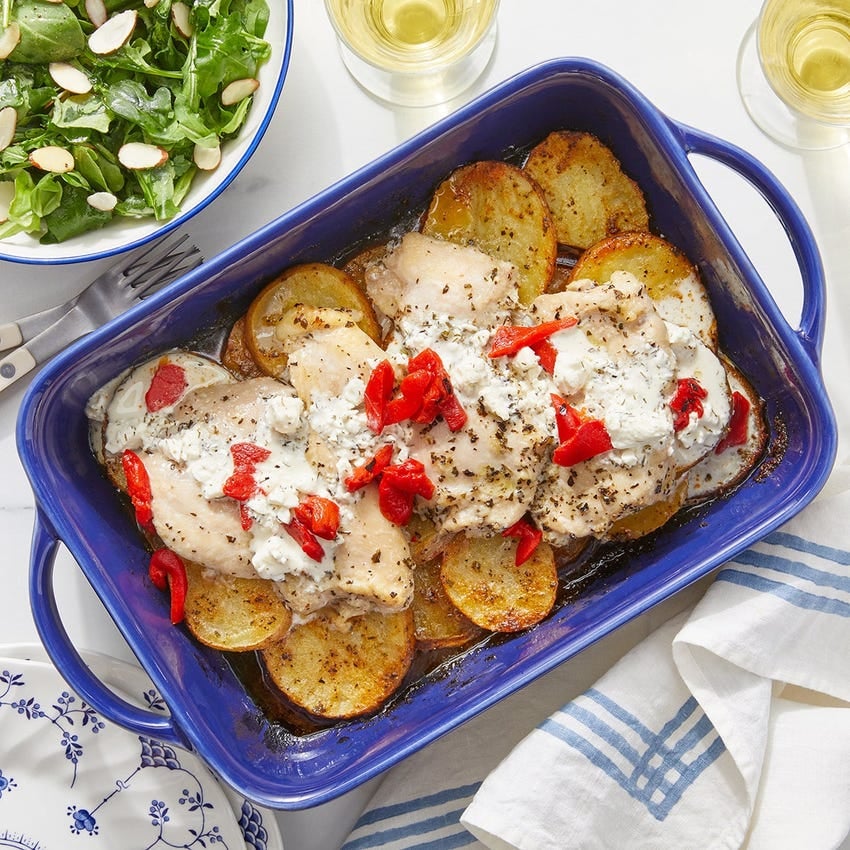 The Mediterranean diet has been around for centuries, and it's easy to see why. These chicken thighs are made with ingredients found in a Greek kitchen. Chicken is marinated in dried oregano, lemon juice, and garlic paste before baking over crispy potatoes. After baking, a tangy feta sauce is drizzled on top to help blend the flavors.
Looking For Quick 1-Pan Dinners? Make This Harissa-Honey Chicken and Couscous Skillet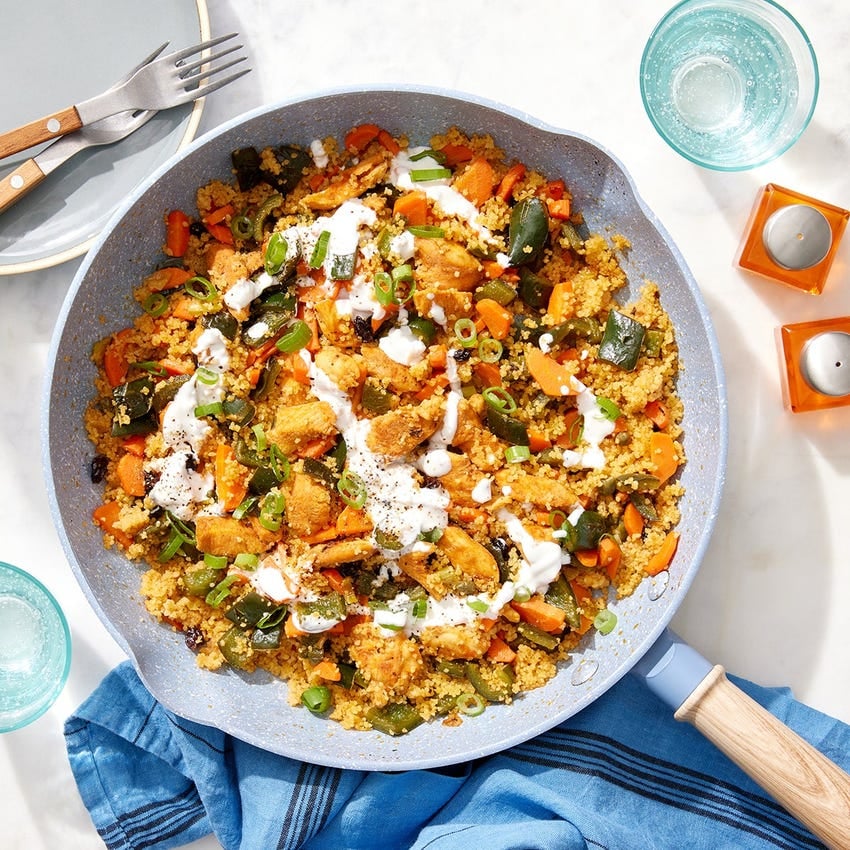 One-pan meals are essential for weeknight dinners. This recipe is made in one skillet, making cooking and cleanup a breeze. Fresh veggies are tossed with the chicken marinated in a delicious sweet and spicy mixture. The dish is then finished with couscous, currants, and capers for a Middle Eastern touch. Just before serving, drizzle some lemony labneh dressing to balance the harissa's heat.
Want Something That's Lower in Calories? Whip Up These Turkey and Mushroom Cups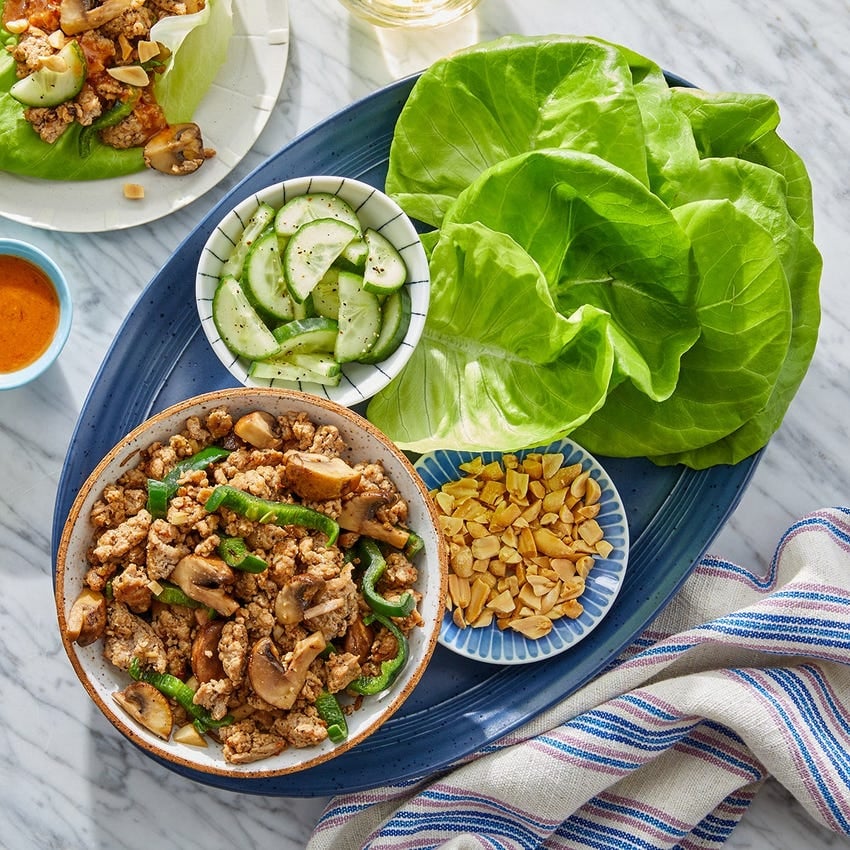 This variation on Thai larb uses turkey instead of chicken and adds poblano peppers and mushrooms to bulk up the dish. The stir-fry is topped with a creamy peanut butter, sweet soy glaze, vinegar, and spicy sambal sauce. A crisp cucumber salad is served on the side to balance out the richness. Serve in a butter-lettuce leaf with the remaining sauce and roasted peanuts for a welcome crunch.
Trying to Eat More Plant-Based Foods? Try This Sesame Ponzu Tofu Bowl
This vegetarian bowl features seared tofu, charred broccoli, and a citrusy ponzu sauce. Tofu is pan-fried in sesame oil to add flavor to the dish. After cooking, the tofu is tossed in an umami-rich dressing with carrots, broccoli, and shishito peppers. This is served over a bed of fluffy rice, topped with fresh green scallions and sesame seeds.
Want to Cut Out Refined Carbs? Eat This Crispy-Skin Salmon Dish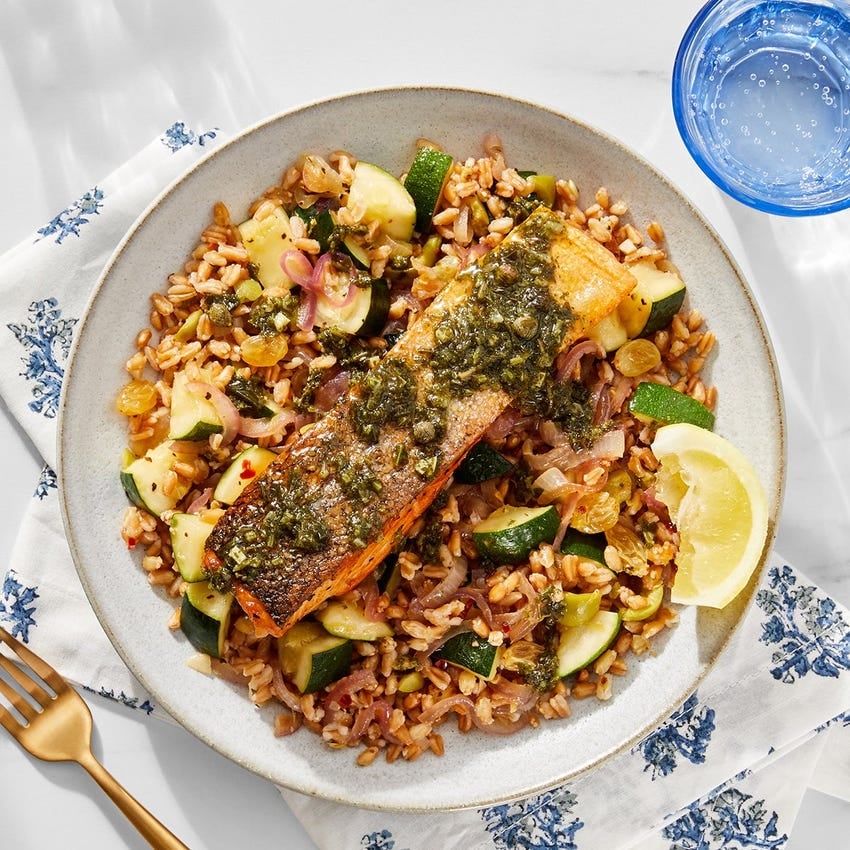 Crispy fish skin is an underrated delicacy. Luckily, this recipe turns salmon skin into a meal instead of trashing it. The skin of the fish is seared until golden and crispy. Then caramelized onions, zucchini, and garlic are sautéed until jammy. The golden raisins add sweetness, while the salsa verde dressing adds zing to the hearty farro base.
Source: Popsugar
StylePortal.co is Asia's leading fashion portal — the one portal that brings all you need to know about the latest news in fashion. You may want to explore the newest Brands, shop for Men's, Women's or Kid's fashion. Or you'd like to reach a wider audience for your brand by partnering with us. Style Portal seeks to Elevate Brands and Redefine Closets.